Diversity Outreach & Strategic Partnerships Team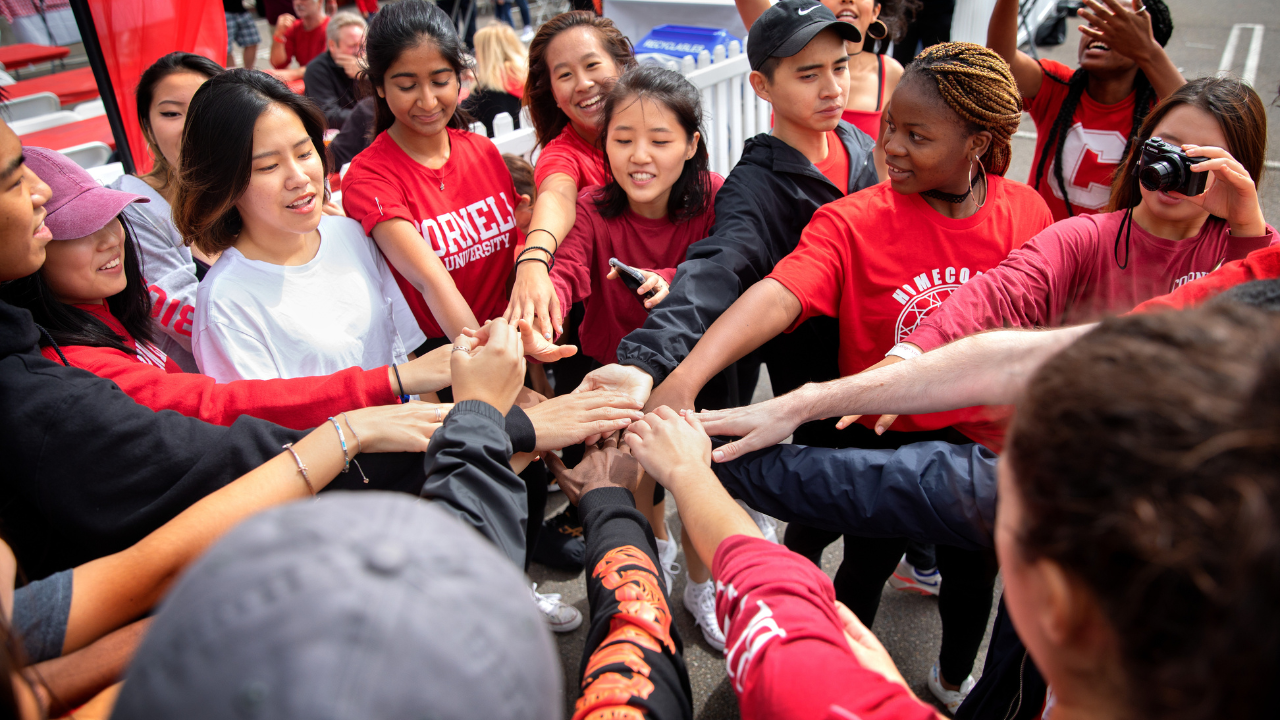 The Diversity Outreach & Strategic Partnerships Team in the Undergraduate Admissions Office (UAO) could not do what we do without all of the staff, interns, and ambassadors that make up our network. 
Meet the members of the Diversity Outreach & Strategic Partnerships Team, our passionate interns, and CUDAA, a student-run organization affiliated with our office. 
Marina Fried
Senior Associate Director of Admissions for Diversity Outreach and Strategic Partnerships
An alumna of Cornell (1998), Marina has been at Cornell University for 20 years. She helps to oversee the Metro New York and West Coast territories as well as international recruitment in Central and South America. She is especially passionate about promoting access and inclusion within our diversity outreach efforts. Marina is a native Spanish speaker, as her parents are from Argentina. Even though she moved to California three years ago, she considers herself a true New Yorker at heart.
Richard Onyejuruwa
Senior Director of Undergraduate Admissions and Diversity Outreach
Richard hosts workshops and programs to explain the college application process and connect prospective students with Cornell student leaders and ambassadors across campus. Richard also advises the Cornell Univeristy Diversity Admissions Ambassadors, one of the largest student-led campus organizations in the Ivy League, dedicated to preparing historically underrepresented prospective students for the college experience.
Jennifer Wickham
Senior Assistant Director of Financial Aid and Admissions
Jennifer has worked in the office of Financial Aid and Student Employment (FASE) for over 12 years and started working with the admissions team about three years ago. She appreciates Cornell as a wonderful and dynamic institution that brings together students from all walks of life. Jennifer loves that she gets to help families learn about Cornell and how it can be an affordable option for their student's education.
Nicole Arshad
Assistant Director of Diversity Outreach
Originally from the Bay Area, CA, Nicole has worked in the admissions world for the last three years and finds passion in helping underrepresented students find meaning after high school. Growing up in a Chilean and Persian household, she is proud to be the first person in her family to navigate the university application process and graduate from college. Her goal is to be a resource for students, families, and supporters embarking on a college journey for the first time while enhancing and developing new ways to support historically marginalized communities.
Wayva Waterman Lyons
Assistant Director of Financial Aid and Admissions, Coordinator of Indigenous Outreach
Wayva Waterman Lyons (Onoñda'gegá'/Onondaga) works within financial aid and admissions at Cornell focusing on recruitment of Indigenous students and assisting Indigenous students with financial aid. Previously, Wayva worked for the American Indian and Indigenous Studies Program here at Cornell as the Recruitment and Student Support Specialist. She worked in the Admissions department at Middlesex Community College in Massachusetts and as a student worker for the Native American Cultural Center at Stanford University. She has a Master's in Social Psychology from the University of Northern Iowa and a Bachelor's in Native American Studies from Stanford University. Wayva enjoys creating and sustaining relationships with Indigenous students, schools, and communities.
Paloma Galdo 
Diversity Outreach Intern
College & Year: Arts & Sciences 2024
Major(s), Minor(s): Psychology, Biology, and Spanish
Hometown: Vienna, VA
Why I Chose Cornell: 
I wanted to be able to make the decision that didn't leave me asking, "what if?" Choosing Cornell was scary, but it was also one of the best decisions I could have made for myself. Ithaca has something for everyone, from hikes through the gorges to walks on the Commons where you are greeted by local celebrity Riley the golden retriever! Despite being away from home, I'm surrounded by amazing friends and my brother, who is only a quick drive away at Ithaca College.
Jazmin Rodriguez
Diversity Outreach Intern
College & Year: College of Engineering, 2025
Major(s), Minor(s): Chemical Engineering, Food Science
Hometown: Westford, MA
Why I Chose Cornell: 
Cornell truly is a place for "any person, any study." For someone like me, who wanted to study both engineering and food science, Cornell was unique in that it provided top-notch programs for both of my interests. Besides academics, Cornell has a gorgeous campus and an impressive number of extracurricular opportunities (where else can I get the opportunity to make my own ice cream flavor and have it produced by Cornell Dairy?). The people at Cornell are diverse, kind, and successful, and it is the perfect community for a college student to join. 
Isabella Riano
Diversity Outreach Intern
College & Year: College of Arts and Sciences, 2025
Major(s), Minor(s): American Studies, Latina/o Studies, and Law and Society
Hometown: Bay Shore, NY
Why I Chose Cornell:
I chose Cornell because of the multitude of resources I knew Cornell would offer me. From study abroad options in Spain to dance organizations on campus, I was sure Cornell would more than satisfy my desire to get as involved as I could in college. I was drawn to the beautiful campus and how tight-knit and passionate the study body is. As someone on a pre-law track unsure what to major in, I knew Cornell was the best choice for me with its various organizations supporting pre-law students. Cornell proved itself beyond my expectations with its incredibly supportive and inspiring staff and the broad range of academic fields.
Riley Teleise Blaber
Diversity Outreach Intern
College & Year: College of Arts and Sciences, 2025
Major(s), Minor(s): English, Education, and Spanish
Hometown: Kailua-Kona, HI
Why I Chose Cornell:
I chose Cornell because of how community-oriented Ithaca and the campus are. I come from a very small town with a very close-knit community. I was drawn especially to the programs that Cornell had to offer that allow students to work with and get to know the residents of Ithaca. Because Ithaca is a smaller town, I knew I would get to know a lot of people on campus and be grounded in my studies. I also fell in love with the beauty of the campus. I was in awe of the new and old architecture juxtaposed against each other and could not wait to study in the "Harry Potter" library.  
Meet Passionate Cornellians
Cornell University Diversity Admissions Ambassadors (CUDAA) is a student organization that introduces Cornell, and college in general, to all prospective students, especially historically underrepresented students. Through events, communications, and programs, ambassadors partner with the Undergraduate Admissions Office and colleagues campus-wide to help prospective students learn more about our school by sharing their own unique experience.