Veterans at Cornell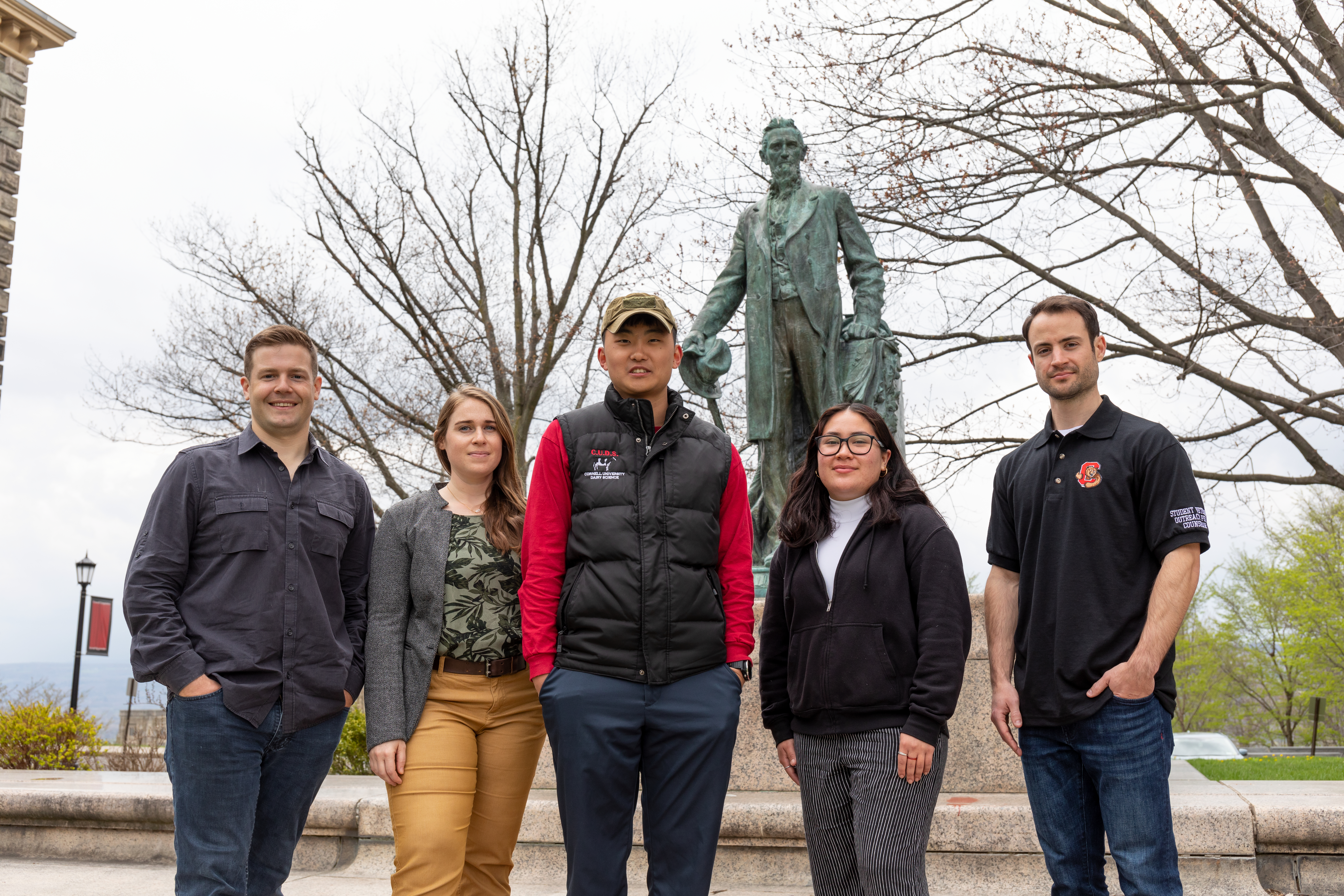 Join our Community of Veteran Scholars
Cornell invites veterans and current members of the military to join our growing community of veteran scholars. 
There's never been a better time for those who've served in the military to consider Cornell. The veteran community is strong and growing, thanks to a renewed commitment to recruit, enroll, and support those who've served.

Cornell's commitment to military service and those who've served isn't new; it dates back to our founding as the land grant university for New York and the Morrill Land Grant Act requiring every land grant institution to include military training in its curriculum. We are proud of our students who have graduated from Cornell and gone on to serve in the military and we are proud of our veterans who have made the choice to attend Cornell after serving our country.
Veteran Admissions and Enrollment Support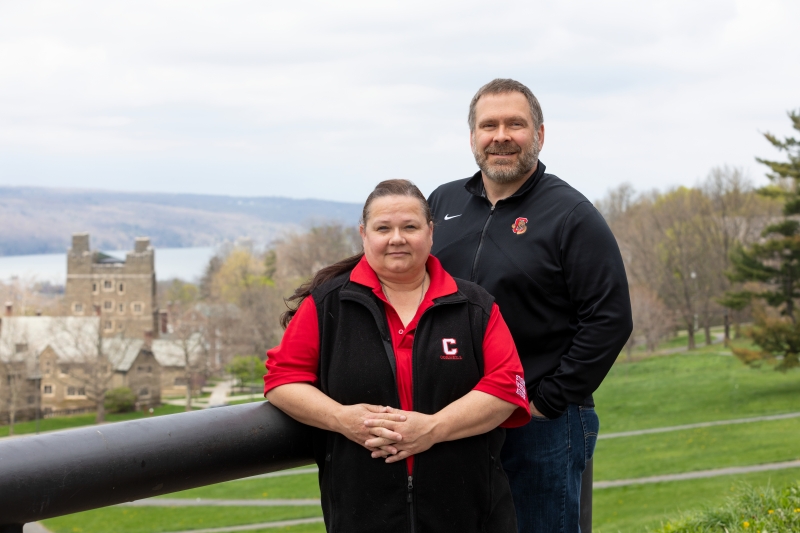 Cornell's Military/Veteran Admissions and Enrollment Services team includes staff and trained student veterans who work to support veterans and current members of the military from the prospective student phase through the applications for admission, financial aid, veteran education benefits, and the enrollment process. 

Please reach out to us at veteranadmissionsandenrollment@cornell.edu. We look forward to working with you!
Applying to Cornell
Cornell applicants use the Common Application and students can apply as either a first-year student or as a transfer student. To be considered a first-year student you must have graduated high school but earned fewer than 12 credits at a college or university. To be considered a transfer student, you must have graduated high school and either earned 12+ credits or enrolled full-time at another college or university after graduation.
Cornell recognizes that veterans and current members of the military may have difficulty completing/submitting some application requirements. Please reach out to us at veteranadmissionsandenrollment@cornell.edu for assistance with application fee waivers or waivers/substitutions for specific documents. 
Admissions committees will select a cohort of applicants with U.S. military service to participate in the Veterans Summer Bridge Program, which is a great opportunity to jump-start your academics and make a smooth transition to Cornell.
Financial Aid and Veteran Benefits
Cornell meets 100% of demonstrated financial need for all admitted students and military/veteran applicants are encouraged to apply for financial aid, regardless of their veteran benefits eligibility. Cornell also participates in the Yellow Ribbon Program, the supplement to the Post-9/11 G.I. Bill™ education benefit. For more information about veteran education benefits, please visit the University Registrar website.
For more information about financial aid, please contact the Office of Financial Aid and Student Employment at finaid@cornell.edu.
Key Partnerships
VetLink
Cornell is proud to be a partner of VetLink and encourages veterans and current members of the military to use the VetLink service as they apply to colleges/universities.
Warrior-Scholar Project
Cornell is also a proud host campus for the Warrior-Scholar Project. The Warrior-Scholar Project offers immersive one and two-week academic workshops or "boot camps" free of charge to enlisted veterans at some of America's top colleges and universities.
Recent News Highlights
Yes, Cornell welcomes applications from veterans and dependents who are eligible for education benefits offered by the Department of Veterans Affairs, including the Post-9/11 G.I. Bill™ and the Yellow Ribbon Program.
The undergraduate degree-granting colleges of Cornell University participate in the Yellow Ribbon Program, the supplement to the Post-9/11 G.I. Bill™ education benefit. Under the program, Cornell and the VA will combine to provide the difference between the student's Cornell tuition and the national cap on the benefit. For more information about veteran education benefits, please visit the University Registrar website.
You may qualify for more than one type of VA education benefit. Because applying for a certain education benefit could affect your eligibility for others, you should consider your options before selecting a benefit program. The VA provides resources to help you choose the best benefits for you and your family:
If you still have questions after reviewing these resources, please reach out to our Student Veterans Advisor, Mary Fisk, at sva@cornell.edu.
Submit a copy of your Certificate of Eligibility from the VA to the School Certifying Official (SCO) at vaedben@cornell.edu. You will find the electronic Yellow Ribbon application and the VA Benefits Request Form within the University Registrar website.
It's recommended that you submit them as soon as you're admitted to Cornell.
Students who are eligible for 9/11 and Yellow Ribbon benefits generally do not qualify for financial aid from Cornell. However, if you're undecided about whether or not you want to use your VA benefits or if you have multiple students who will be sharing benefits, you may still want to complete the full financial aid application so we can determine your eligibility for financial aid.
All students who receive veteran's education benefits are still eligible for federal aid – loans and Pell Grants. Students who wish to be considered for these aid sources are required to complete the FAFSA application.
The University and the surrounding Ithaca community invite veterans to live and learn on Cornell's historic campus, "Far above Cayuga's waters." On-campus, Cornell offers the new Veteran's House, plus a wide variety of residence halls, program houses, and townhouses which foster communities of first-year, upper-level undergraduate, and graduate and professional students. Visit the Living @ Cornell website for details. The University provides extensive off-campus living and housing assistance, education, resources, and referral services; contact offcampusliving@cornell.edu for assistance and information. Visit Cornell Maps to navigate your way around campus and Tompkins County.
Families are essential allies in encouraging the academic success and well-being of all students. Cornell's Students with Families website provides a gateway to resources available for students, spouses and partners, and children. The University provides a wide variety of services designed to assist spouses and partners with their own ambitions and goals, along with essential support for families with child(ren).
While all potential transfer credits are independently evaluated by the undergraduate college/school that offers a student admission, we are not typically able to award credits for military training experiences.
Since students will apply to one college/school within Cornell, the individual college school you applied to would determine what credits were transferable after your offer of admission was made to you. We would encourage you to reach out to the individual college or school you are considering applying to if you have specific questions about the credit transfer process. 
Military training and experience are among the many factors that we consider in our holistic admission review process. With this noted, candidates with appropriate academic preparation (either in high school or college) and the ability to articulate their intellectual interests as part of the application essay, are often the most successful candidates.