Getting Involved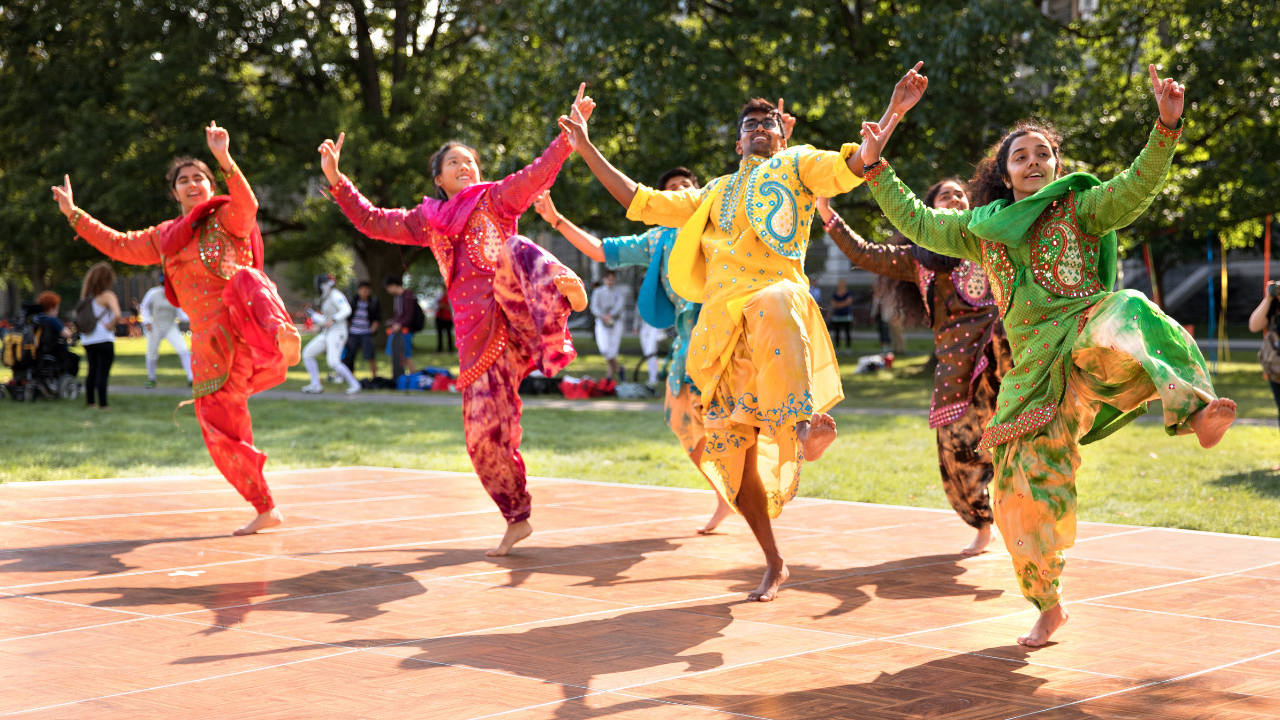 So Much to See, So Much to Do
Interested in volunteer work or entrepreneurial pursuits? Want to show off your Samba skills or explore on your mountain bike? At Cornell, there's a club, activity, program, or organization where you can meet people who share your interests — or where you can just try something new. You'll have the opportunity to study what you like, while also pursuing your other diverse passions.
Student Organizations
There are more than 1,000 student organizations on campus, with a club, program, activity, or group on nearly every topic imaginable. The options run the gamut, from microfinance to roller hockey, from cheese production to snowboarding. Search the complete list of organizations or check out our Student Leadership, Campus and Community Engagement Office for the full scoop on all of the transformative opportunities available to students.
Sorority and Fraternity Life
Cornell has a vibrant sorority and fraternity life community, with more than 50 fraternities and sororities on campus. Our organizations take great pride in enhancing their community and enriching their members' college experiences.
Community Engagement Opportunities
Imagine joining a student group, class, or research program that's making a positive social change on campus, in our community and throughout the world. Cornell's David M. Einhorn Center for Community Engagement supports students who are collaborating with communities to create a more just and equitable world.
Historic Traditions
Dragon Day
Every year around St. Patrick's Day, an enormous dragon created by first-year architecture students parades across campus. Accompanied by architecture students in outrageous costumes, the dragon lumbers to the Arts Quad where it is slain by a phoenix created by rival engineering students. This rite of spring is one of Cornell's best-known traditions and has been for over a century.
Cheering on Big Red
Big Red ice hockey is one of Cornell's most treasured spectator sports. Learn the Lynah Rink cheers and check out the Zamboni driver's costumes as he preps the ice for home games! Cheer on Big Red's other varsity sports and consider getting involved yourself. 
Slope Day
This annual celebration of the last day of classes takes over beautiful Libe Slope and includes music, entertainment, camaraderie, and lots of fun.
Exploring Ithaca
Connect with Nature
Experience the many hiking trails, gorges, and waterfalls just outside your front door. Or visit one of the four state parks within 10 miles of campus — Buttermilk Falls, Robert H. Treman, Allan H. Treman, and Taughannock Falls.
Enjoy the Arts
Dubbed "Ithaca's year-round film festival," Cornell Cinema is one of the best campus cinema programs in the U.S. You can also see one of the outstanding performances at the Schwartz Center for the Performing Arts. Downtown Ithaca is also home to numerous art galleries and the Ithaca Ballet. 
Relish Life on the Lake
Cayuga Lake is a fantastic place for boating, swimming, fishing, or just watching the sunset. Discover what makes life in the Finger Lakes so unique by taking advantage of our beautiful lake. 
Visit Museums
Visit the Herbert F. Johnson Museum of Art, which houses Cornell's historic permanent collection featuring more than 35,000 works of art.
Shop Ithaca
Looking for something? You can find it in Ithaca. Visit boutique shops on the Ithaca Commons, national superstores along Route 13, or the convenient Ithaca Mall less than three miles from North Campus.
Head for the Slopes
Greek Peak, less than half an hour from campus, offers snowboarding, skiing, and tubing. Cornell Outdoor Education supports students interested in snow sports with equipment rentals and physical education courses.
Eat Local, Eat Fresh
The Ithaca Farmers Market offers fresh produce, baked goods, and arts and crafts. Enjoy a stroll along Cayuga Lake after shopping.